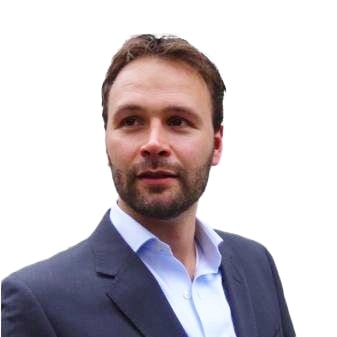 Author of this article: Norbert Evers – Achmea, Lead Lean – Schade & Inkomen
Your Content Goes Here
Introduction: The Journey of Calibration and Improvement
Hoshin Kanri is not merely a buzzword. It is a foundational pillar of strategic management and improvement that offers clarity, direction, and the promise of tangible results. It is crucial having a roadmap in the chaotic journey of business strategy.
In this article we will show you an actual company's experience with Hoshin Kanri as a blueprint for its Obeya.
Hoshin Kanri is not just a tool, it is a philosophy. When executed right and with commitment, it transforms operational value streams into continuous improving processes and the realization of its goals. It serves as the master plan behind the creation of an Obeya – a harmonious space where strategies, plans, and actions from several operational value streams converge, fueling the organization forward.
A brief introduction of Hoshin Kanri business planning and the X-matrix as instrument
Hoshin Kanri is a business planning process that helps teams to collaborate within their operational value stream. When more value streams are executed, the process can also be used to make choices when bottlenecks between operational value streams are identified.
When executed well people from the 'floor', middle management as well as senior management responsible for one or more operational value streams are involved and informed.
Each team of every operational value stream should be able to answer four critical questions:
What is your vison and strategy based on your purpose within the value stream?
What will be your annual goals which contribute to the vision and strategy?
What project and/ or improvement plans are needed to achieve the annual goals besides the normal running business?
Which Performance Indicators are truly critical when related to the vision, strategy and annual goals?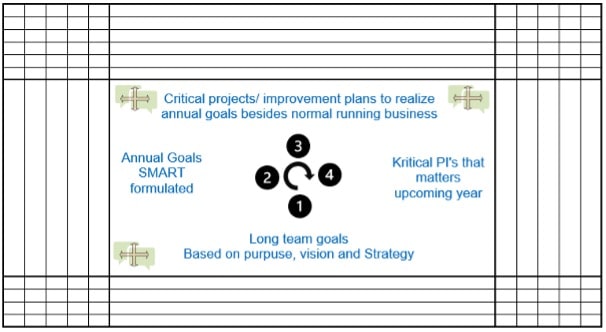 Align with partners to improve collaboration and experience the magic.
Each question should be aligned within the operational value stream. Meaning each team should relate to each other and really understand their collaboration and/ or differences. This exercise is where the magic is, especially in bigger companies and more complex value streams.
Align between value streams and identify bottlenecks, choices must be made.
When executed well you will get several X-matrixes at team level which can be summarized into one higher level X-matrix for the whole operational value stream. These X-matrixes again need to be aligned with other X-matrixes from other operational value streams if this is the case.
Critical here is to understand what bottlenecks are identified when realizing all annual goals and critical projects and improvement plans. Is there enough IT change capacity, are there enough people from the 'floor' to guide and implement the operational change etc.?
This exercise brings meaning to an Obeya where several operational value streams are combined and continuously priorities must be weighed against each other based on facts, figures, and mutual understanding.
The Context of the Company

Achmea is a cooperative financial service provider with its roots as an insurance enterprise. For this article we focus on that part where private individual damage claims are managed with care. We are proud on the way we help customers, manage their claims with collaborations between several parties and overcome issues. The way we do this is a unique selling proposition in a mature and competitive market.
Our Challenge
Yet, every success story (in the making) has its set of hurdles. Ours was the challenging task to reinvent our operational management. What exactly is the added value, the purpose of each party when collaborating and satisfying claims? We felt the need to intensify ownership into our processes and ensure that every department, every team, irrespective of their position in the organizational hierarchy, feels interconnected, valued, and aligned with the company's vision.
The Strategy and Approach

Our profound change started with inspiration, a moment of enlightenment. Our journey took us to the doors of Zilveren Kruis, a reputed entity in the realm of Obeya management and luckily part of Achmea. This visit to the department where they manage policies and claims offered insights into the nuances of operational management and introduced us to the equilibrium between consistent operation (Run) and continuous improvement and innovation (Change).
Apart from our own management team we also invited some of the senior employees. This was done to enlarge the leading coalition and make a shared experience. It would now be a shared experience between management and employees instead of only from management. Apart from that, we experienced that the senior employees also brought in a second narrative. They were more engaged with the practicalities of how the information was managed and shared on the workfloor.
Together we observed the operational management from one of the teams at Zilveren Kruis. How is this operational management shared, in what way are employees and KPI owners engaged. Although the X-matrix was not at Zilveren Kruis, we did see lots of alignment and cascading KPI's. The different teams working for the same customer all shared their ways of conducting operational management in the Obeya of the management team. It was inspiring to see how customer experiences were shared, how the performance dialogue within and between teams led to shared improvement plans.
Baseline Assessment and Leading Coalition
Before steering the ship of change, we believed that we should invest in a thorough understanding of our current position. We pieced together a coalition of forward-thinkers and changemakers from within our ranks, intending to lead this transformation. Together we executed a Lean Baseline assessment of our department, underlying value streams and/ or processes and teams. Meanwhile we will now soon perform the same assessment with the whole management team after finishing the first X-Matrixes and the operational management set-up needed for execution.
Knowing what we know today, we should have involved the whole management team from the start. This would have helped creating a feeling of shared urgency in our plans to overhaul our current operational management structure.
Three Key Assignments
With the inspiration of Zilveren Kruis in mind and our baseline results at hand, we defined the first three assignments to reinvent our operational management. Assignment one and two were specifically designed to make sure we would be focused on the right things to do.
Assignment 1: Understanding your Essence within the Value Stream
It's critical to understand one's position in the vast scheme of things. While our teams were proficient in claims handling, we realized that they also played a pivotal role in several other processes. There are crucial links to other value streams and/ or even more crucial feedback loops to teams within the same operational value stream. This assignment made this role and purpose of each team within their value stream and all needed feedback loops truly clear.
Assignment 2: Dare to Dream
Charting a vision is just half the battle won; bringing it to fruition is the challenge. This phase was particularly daunting for our middle management, who often found themselves enmeshed in daily tasks, losing sight of the broader horizon.
It is not that difficult to introduce some form of operational management. But it is difficult when it is focused on your essence and truly added value in relations to the parties you actively work with. We introduced extra inspiration sessions to help our hardworking managers dream again.
Assignment 3: Reflecting Core Insights using Hoshin Kanri
With the knowledge acquired from the initial two assignments, it was time to blend and reflect. The X-matrix emerged as a valuable tool in this phase, ensuring that our strategy remained coherent and aligned.
Although it seems obvious, the X-matrix visualizes the relations between the questions/ parts and make all participants aware of the connections between vision, strategy, annual goals, projects, improvement plans and the KPI's. In what way do the annual goals align with the long-term vision and strategy? Which projects and improvement plans are making the difference in relation to which annual goal(s). Which KPI's are influenced by which projects and/ or improvement plans? Doing this exercise within teams and between teams within the operational value Stream underlines the dependencies and/ or visualizes blind spots.
Regarding this assignment we identified operational value streams within the department Claims Complex. Some teams were strongly connected doing the same work from a different location at the same operational value stream. We asked them to combine forces and make a shared X-matrix based on the four questions mentioned above.
Meanwhile the management team members are collaborating more intensely with several other teams from different departments to create value for the customer. In this case teams work together with Claims Services, Expertise and Regress. In scope for the X-matrix were all teams from Claims Complex, Expertise and Regress. During the assignment though we noticed that teams from Claims Services were informed and/ or involved automatically.

The X-matrix is now discussed with other parties within the same value stream. Is the focus/ ambition in line with each other and what about the focus/ ambition for next year? Which changes, innovations and/ or improvement are on their agenda's. Which value is there when looking at the entire system? What choices must be made when goals or potential changes are not in line with each other?
When the several X-matrixes are discussed within teams and between teams in the value streams they are vertically discussed within the management team(s). Are all ambitions in line with the corporate strategy and what are the (greatest) bottlenecks when realizing all? What choices and/ or changes must be made?
Clarity in communication emerged as the linchpin for successful collaborations, especially during the transition although it will stay crucial as when more parties are now translating their strategy into X-matrixes. It stays important to lay down clear expectations and ensure mutual understanding.
When all alignment is done, and choices are made the process is not over. Execution takes over and realization is wanted. In that sense the X-matrix is a blueprint for the Obeya and its underlying operational management. The true value is not in data and/ or visuals but in the mutual understanding, the collaboration, and its follow-up.
The operational management has been reevaluated and is improved. Each operational value stream determined its roadmap for 2024.  Next step is to bring together all results from several value streams, build and host the Obeya. Early 2024 we expect to have our Obeya that brings together the management team, value streams and the crucial stakeholders.
The Present Approach
Our current approach includes tools like the X-matrix for each value stream and carefully designed KPI's that revolve around our key stakeholders—customers, employees, and partners. Central to this is the ideology of Hoshin Kanri, which emphasizes aligning vision, annual targets, significant projects, and KPIs across all levels of the organization. This will be the blueprint for the Obeya yet to build in 2024!
Hoshin Kanri FAQ