Digital Obeya Room | Tips and Tools
Recently the world has seen a rise in digital and hybrid work solutions. COVID-19 has led many enterprises to speed up their digital transformations. Entire workforces are being forced to work from home, creating an enormous challenge to stay aligned and updated. "ATAWAD" information access is the new norm; Any Time, Any Where, Any Device. Being continuously connected seems to become just as important as the work we deliver. It has surged a growth in the use of digital Obeya's.
Digital Obeya's became increasingly popular as misalignment remedy. An Obeya aligns people creates one single source of truth. Obeya overcomes the problem of having to find relevant information sources in the ever growing sea of ill organized digital content. It helps us prioritize what we need to look at, when and literally connects us around what is important.
Is a digital Obeya preferred over a physical Obeya?
Not perse. Both have very distinct advantages and disadvantages. It is probably wise to consider them and apply them to your situation. Underneath we have listed some.
Advantages of using a digital Obeya
Ability to connect geographically spread teams/organizations
Ability to connect while working from home
Solving lack of meeting space
Instant access to key shared information
Ability to link information from different software systems
Fast Obeya setup process in the beginning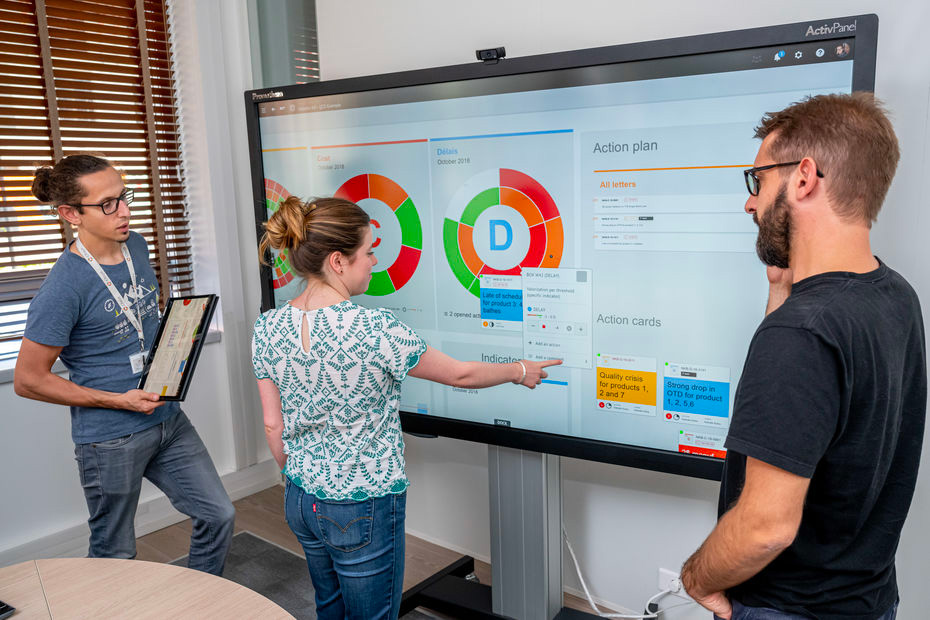 As a whole, the disadvantages usually dance around two major issues:
Losing sight of the big picture and
Lack of human connection
Effective use of all the great tools for digital Obeya rooms should always be balanced with careful consideration to the human connection aspect that makes the Obeya philosophy so powerful.
Digital tools can make us miss the choices we are forced to make when we have to take the physical restrictions of wall space into account. Lack of space forces us to prioritize and this is a good thing.
Digital visual management cues are less effective; it's just the way us humans are build. Human beings exchange more than just information, updates, numbers and plans. We need some connection to do meaningful work together. In high performing teams this connection is usually very strong. This connection provides us group identity and creates culture. Using video conferencing tooling it is easy to miss the non-verbal communication through body-language, which takes up to 55% of all communication (Mehrabian, Albert, 1972).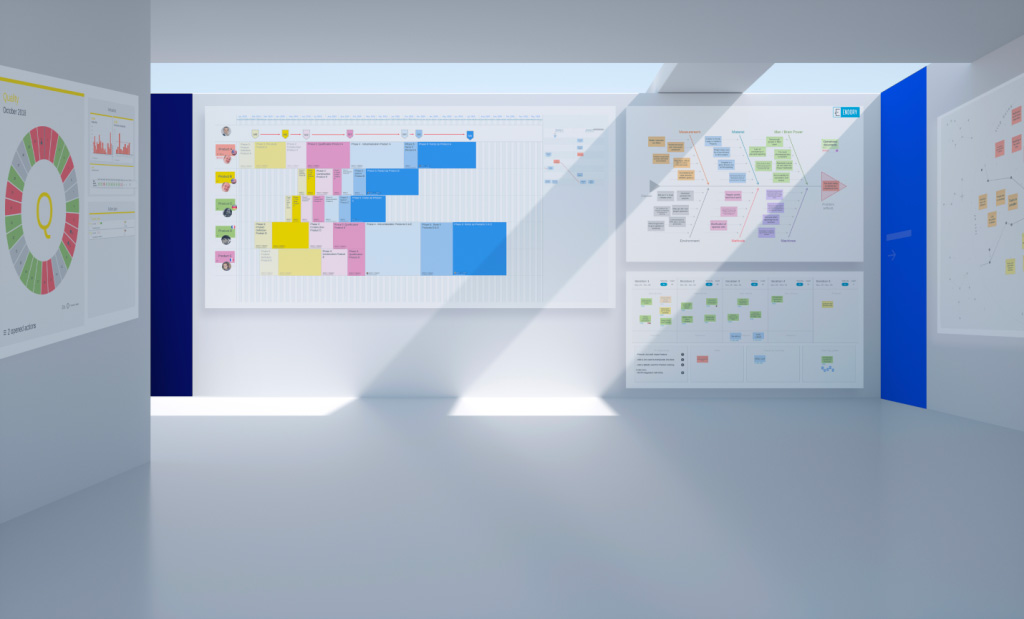 Tips for working with a digital Obeya
It is probably wise to have someone whose sole focus is on the quality of the process and the interaction and not the content. Check out the Obeya Host training module in the library
Mind your interface – communication is more important when working digitally
Preparation is key.
Be mindful of data confidentiality: there is a cloud vs on-premise challenge with regard to data safety
Go hybrid! (combine physical and digital to create a best of both worlds situation)
Digital Obeya Tooling
Most digital collaboration tools already have Obeya templates available. Just type 'Obeya' on the search function within the tooling of your choice.
Obvious tools we've come across the last few years for building digital Obeya's:
How to Host digital Obeya sessions – Check out the Obeya Host training module in the Associates Library!
Join the Obeya Association
The Obeya Association is a community, a platform and a worldwide network. We aim to develop Obeya "from tool to philosophy". We are Obeya practitioners; discussing, creating, sharing, testing and continuously improving Obeya practices and quality standards. We develop meaningful training materials and provide professional Obeya examination.