Lead Agilist Jelmer Koekkoek from Dutch online KNAB Bank shares how at KNAB they connect strategy and execution using OKR and Obeya.
An absolute must see for all Lean, Agile and Strategy Professionals.
Obeya & OKR:A match made in heaven
Every child can draw… Even I could do it I'm told.
Unfortunately when growing up, we tend to forget some basic skills. And maybe we become too concerned with doing it "right" – worrying if our drawings are accurate and acceptable.
I compare this process with the evolution most startups go through. Every startup has a natural focus. Usually they are highly transparent organizations, displaying effective decision making – seemingly effortless. For startups, transparent communication means standing up and raising your voice just a little bit. Startup goals are almost always alike ("Grow like crazy!" or "Make money for the first time!") allowing razor-sharp focus. Most often all of the people involved are located together in 1 room. Could you say that for startups their office is an Obeya Room?
Both for children as for startups – it's very hard to witness your own transformative growth. It becomes harder and harder to rely on those simple practices from before, the practices that once seemed so natural.
Exactly this also happened at Knab. After many iterations and a lot of valuable lessons, at Knab we are now convinced we are on the right track to re-learning how to keep our organization simple and natural.
We are rediscovering our own former structures. The ones that were once so effective and came natural. The ways we set our goals, coordinated efforts and communicated with the entire company. Do you know what we found?
"Combining Obeya practices with OKR's and health metrics steer our company in a predicable rhythm learning & adapting to ever-changing conditions."
Our most important lessons so far?
Having one "decision making mechanism" covering the entire organization, creates instant value. It creates transparency and overview on challenges. It forces us to have a conversation on what success "really" looks like.
Why KNAB started using Obeya and OKR's
Knab is an online bank founded in 2012. It was founded on the conviction that the financial world can -and in fact must – do things differently. Instead of products and rules, we prioritize the customer. Knab focuses on innovation, human service and transparency. Our name should give you a good idea of what drives us. We've flipped the script on all the other banks. (Quite literally: bank – knab). Our promise to our customers: when money matters, we've got your back. Always. Knab's personality is both analytical and social. We're quantitative and qualitative, head and heart, intellect and emotion. Knab delivers smart banking products and the very best personal service.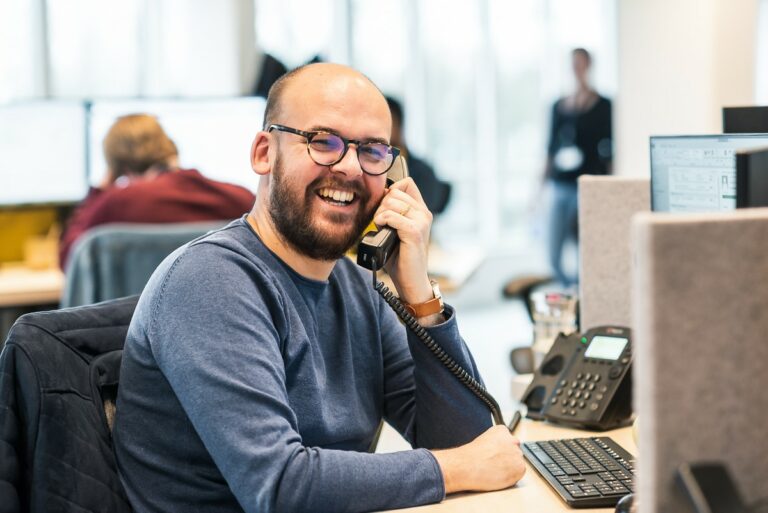 Knab has already been experimenting some years with how to scale our decision making within a growing company, maintaining our focus on our customers. Our quarterly planning process (KIP) was very intense, but since the whole company was involved, it was also transparent & fun. Teams were refining the work to be done on the spot and dependencies were managed just before (and during) the closing drinks.
Until we could not scale this anymore…
Too many teams were working on too many products & objectives, and the necessary conversations (what value are we creating for our customers and the company) did not receive the attention it deserved.
"We started to rely on our management teams too heavily and too often to make decisions that should be made by & between teams."
Early 2020 we decided to make some changes to the way we organize our company, in order to be able to make faster and more data-driven decisions, be more focused on outcomes than activities and to delegate as much decision-making power as possible to teams & empowered experts.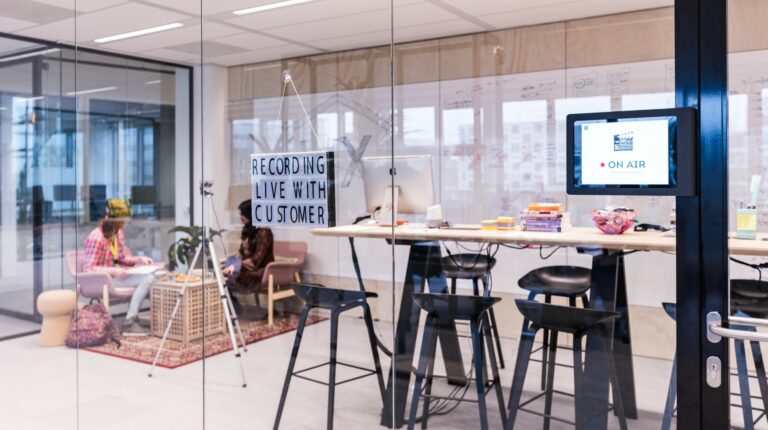 To facilitate this, we set out to create Knab's first (physical) Obeya room. We adopted the OKR (objectives & key results) framework to communicate our goals. In March 2020 our strategy room (as we had branded our obeya room) was ready for use. And as of Friday March 13th the COVID 19 pandemic forced our company to operate fully remote.
Working remote forced us to rethink our entire way of working. Getting a message across is a real challenge. I'm convinced that especially during recent remote times, it has helped us to have a both a clear structure for goals, accompanied by a predictable and simple process of setting, communicating & evaluating them. Although it's impossible to quantify the impact, I'm convinced our journey with Obeya & OKRs have played a big role in the fact that we coped very well with "turning full remote" and we continue to do so to this day.
How Knab applies OKR in their Obeya
All our OKRs are driven by our purpose:
We want our customers to feel at ease when it comes to their finances. Every day.
Our strategy is a 3-5 year horizon describing how we want to fulfil that purpose. What kind of offerings do we believe are going to make this happen for what customers? Based on this strategy and our current reality we set objectives & key results each quarter. Our objectives are:
qualitative,
transformative
describe the impact that we want to make
The objectives are set for a longer period, roughly a year, whilst our key results are set for a quarter only. This allows us to learn whether our key results have the right ambition level and they actually help us reach our objective.
One of our current objectives is "customers love us more every day". This objective is what makes us tick, that's the impact our daily work should have. The key results turn these "intangible" objectives into needles that we can move.
Example: lowering the number of manual steps a customer needs to take in order to buy a product or to improve the self-service capabilities in our app, and with that removing the need for customers to get in touch altogether. But when they really need one of our Service Experts, we want to make impact and increase the feedback scores that customers give us.
The company objectives and key results are input for teams & departments to set their own. We are still learning how much structure we need to provide to support them, while also giving as much autonomy as possible to teams to set their own OKRs based on their expertise. After this is done teams align their future plans with their OKRs.
OKRs are a perfect addition to every Obeya Room
OKRs are our vehicle to create transparency about our strategy and goals in our obeya room. Especially our key results give us the needles that we can visualize on our performance wall.
By separating key results (that indicate to what extent we are successful in achieving our goals) and health metrics (that tell how we are doing right now) we are able to have a singular dashboard view of the entire company.

By visualizing our backlogs & plans for the future in portfolio walls we are able to see quickly on which OKRs we spend most or our effort – and whether it is paying off.
"The combination of OKR & obeya techniques seems to be a match made in heaven."
Obeya and OKR are very compatible. They both:
promote transparency,
move decisions to where the information is,
help to build a learning organization
The practices naturally reinforce each other. I can't imagine us dropping either of them any time soon.
Learn how to combine Obeya and OKR at the Obeya Summit
At Knab we by no means claim credit for what we've learned. We read all the books and tried to absorb every good practice we could find. And because we'd like to give back our learnings to the community we are happy to join the first worldwide Obeya Summit on June 4th to share our story.
During the Obeya Summit on June 4th, we'll deep-dive into our learning journey even more, and extract the lessons that might be useful in your context. For sure we'll talk about:
How we deal with work where it's already clear what needs to be done
How you can limit your OKRs yet retain full transparency on how you are performing with health metrics
What the next steps & the current challenges for Knab are
And why you should not wait trying this until you have it all figured out.
We only got to where we are today because we embrace the fact that were are succeeding but also failing every iteration, learning from that and adapting for the next.